Lava 2 Pods
The Lava 2 Pod system is revolutionary in design, shape, and function. It features some incredible flavor options for any pallet. The Lava 2 is a pre filled pod system that contains 1ml of liquid per pod.
We tested the Lava 2 pod system repeatedly and it passed our rigorous testing in terms of leaking, flavor consistency, and battery life. We feel completely confident that anyone trying the Lava 2 POD SYSTEM will be extremely happy!
Try all the Lava 2 Pod Flavors
Mint-Freshen up with our curiously strong Lava2 fresh mint that deliver a refreshing burst of minty flavor with every inhale.
Mango-perfect blend of mango.
Blueberry- The perfect blend of sweet blueberries.
Apple Mint-Delicious blend of apple with a hint of mint.
Kiwi Mint- Fresh kiwi with a hint of mint.
Tobacco- Strong american tobacco flavor.
Watermelon Mint- Juicy ripe watermelon with a hint of mint.
Pineapple- Sweet ripe pineapple.
Cotton Candy- This is a childhood favorite treat!
Strawberry- Sweet ripe strawberry flavor.
Pink Lemonade- Sweet strawberry with the perfect amount of citrus lemonade.
Splash Ice-A candy flavor with a hint of menthol. Users report that this is the best flavor!
Vanilla Cream- A delicious creamy cake flavor topped with vanilla icing.
Peach- amazing smooth fresh ripe peach flavor
Banana- The creaminess and fruitfulness will have your taste buds going bananas! If you acquire a taste for bananas this is the right one!
Iced Grape- An irresistible rich and juicy flavor of grape and a hint of ice.
Menthol- NEW FLAVOR!!!
Chill Menthol- New FLAVOR
GOLD Tobacco- NEW FLAVOR
Lava 2 Pod Specs
4 pods per pack
1ml Salt Nic liquid per pod
5% salt nic
A lot more bang for you buck over the "other pod brands"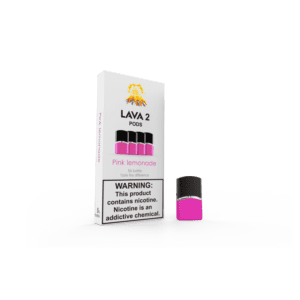 ---
Lava 2 Pods FAQ
Q. Lava 2 pods near me
A. If you are looking for "Lava 2 pods near me". Stop!
You can buy Lava 2 pods from us here cheaper! We will get them out to you quickly with our fast and cheap shipping.
Q. Where can I Buy Lava 2 Pods?
A. Right here at Buy Pods Now!
We buy directly from the manufacturer so you know that you are getting 100% authentic Lava 2 pods when you order from us…
Q. Where to Buy Lava 2 Pods?
A. Lava 2 pods are mostly distributed online.
You might be able to find them in some retail stores, or from some other online stores – however beware! There is a problem with cheap knock-off pods coming out of china.
If you want to know you're getting the real thing – order from us and we will get the flavors you want,  cheap and fast – straight to your Mailbox!
Q. Lava 2 Pods Wholesale
A. We have build a special relationship with the manufacturer so we can get you the real Lava 2 pods to you cheap.
Send us an email and we would be happy to take care of your Lava 2 Wholesale Needs!